Crossroads' leadership has a heart to raise up pastors. Thanks to the help and financial support of an organization called Made to Flourish, we have been stepping into this developmental work by hiring pastoral residents who will work with our team to learn, to grow, and to contribute to the kingdom work being done here in the city of Grand Rapids. Our hope is that these young leaders will receive the support and experience they need to serve the church in healthy and lasting ways.
The residents will be hired for a 2-year term before being sent out to wherever God is leading them. Each year, Crossroads will take on a new resident, so that the last year of one residency will overlap with the first year of the next. It's incredible to think that we will be able to have a continuous flow of new, young pastors being trained here at Crossroads! And our congregation, not just our staff, get to be in the game. We hope you, as our people, feel this responsibility and call as well.
---
Current Residents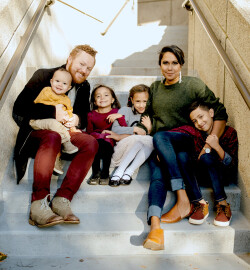 Nathan English
Resident Young Adults Pastor
2020–2022
Nathan, his wife Jana, and their four children Ben, Norah, Olive, and Ari have been a part of the Crossroads community for the past ten years. Nathan originally hails from the Pacific Northwest and met his wife while attending Bible college here in Michigan. They have had the joy of serving in the worship and marriage ministries as well as other lay leadership opportunities throughout the years. After being commissioned and sent out by Crossroads in 2015 to serve as support staff for a church plant in England, the English family returned to the states with a call to step into full time ministry.
Now after completing seminary studies, Nathan is excited to step into the role of resident young adult pastor while helping to oversee the Crossroads Connect program. Nathan and Jana are passionate about engaging the Church, culture, and society through an ever-deepening love for Jesus and the Word of God.
Gabe Hartfield
Resident Care Pastor
2021–2023
Gabe Hartfield graduated from Grand Rapids Theological Seminary with a Masters in Divinity. After graduating seminary, he became a professor at Davenport University, where he also served as a campus minister for InterVarsity Christian Fellowship. He has previously been on the teaching team at Journey Church. His desire is to help young adults know Jesus better through scripture, experience Christ through community, and take ownership over their faith.
Gabe Hartfield is the resident care and young adults pastor at Crossroads Bible Church. During this residency, he desires to develop competencies for church leadership, pastoral care, preaching, and church planting.
---
For those who may be interested in becoming a Crossroads Resident, and for those curious to know more about how Crossroads is investing in these residents, more information is provided at the link below. You can also contact our Director of Residency, Brian Medaglia.Click Here for More Info!
---
For anyone who would like to learn more about Made to Flourish, please click here.