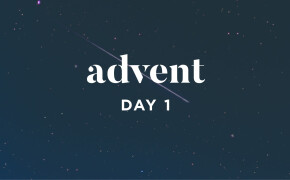 Advent: a time of anticipation. A time to slow down, reflect, and prepare our hearts to celebrate the birth of Jesus. Dave Dietz, a member of our Crossroads family, has written daily blog posts for all of Advent, to help us process our scripture reading and continue to reflect on the beauty of this season.
December 25th is the day that we celebrate the nativity, the birth of Jesus. We can find the story of His birth in Luke chapter 2, verses 1-7:
In those days Caesar Augustus issued a decree that a census should be taken of the entire Roman world. (This was the first census that took place while Quirinius was governor of Syria.) And everyone went to their own town to register.
So Joseph also went up from the town of Nazareth in Galilee to Judea, to Bethlehem the town of David, because he belonged to the house and line of David. He went there to register with Mary, who was pledged to be married to him and was expecting a child. While they were there, the time came for the baby to be born, and she gave birth to her firstborn, a son. She wrapped him in cloths and placed him in a manger, because there was no guest room available for them.
I think we can all agree that Jesus probably wasn't born on December 25th. That date was chosen by Christians as an answer to the pagan winter solstice. Just when was Jesus born then? The Scriptures are silent as to the day of His birth. But I heard a message a couple of years ago given by Rabbi Jason Sobel that sheds some light on that. Actually, I am basing this blog on two messages; one given by Pastor Rod and the other by Rabbi Sobel.
Every milestone in Jesus' life happened on a Jewish holiday. He died on Passover. He rose on First Fruits. He ascended during Pentecost. He poured out His Spirit on the day of Pentecost. Some believe He was born during Sukkot. Sukkot (pronounced Su-Coat) is the Hebrew Festival of Tabernacles. It celebrates God's provision, protection, and presence for Israel while in the wilderness.
Sukkot is described in Leviticus chapter 23, verses 39-43:
"So beginning with the fifteenth day of the seventh month, after you have gathered the crops of the land, celebrate the festival to the Lord for seven days; the first day is a day of Sabbath rest, and the eighth day also is a day of Sabbath rest. On the first day you are to take branches from luxuriant trees - from palms, willows and other leafy trees - and rejoice before the LORD your God for seven days. Celebrate this as a festival to the LORD for seven days each year. This is to be a lasting ordinance for the generations to come; celebrate it in the seventh month. Live in temporary shelters for seven days: All native - born Israelites are to live in such shelters so your descendants will know that I had the Israelites live in temporary shelters when I brought them out of Egypt. I am the LORD your God."
Tishrei, the seventh month of the Hebrew calendar, occurs from about mid – September to mid - October of the western calendar. So the fifteenth day of Tishrei would be about the beginning of October in the western calendar. The last of the fall festivals, Sukkot takes place at the ending of the harvest of the present year's crop, before the planting of the next year's crop. So a part of the festival was prayer for rain. Israel gets rain only during a two to three month window during the winter so it needs to get a lot of rain during that time. Israel left a land with plenty of water (Egypt, irrigated by the Nile) and came to a land where they would have to look up and trust God for the rain. That is why they called rain "Living Water": in Hebrew, "Mayim Chayim". And Mayim Chayim became a metaphor for God. God gave them Living Water from a rock in the desert. He was Living Water for them in the desert.
Each day of the festival there would be a ceremony in the Temple. For the first seven days the High Priest would bring a pitcher to the altar and turn it over as if to pour, but nothing would come out. Then, on the eighth day, he would go to the Pool of Siloam which was fed by the Spring of Gihon, which means "gushing forth". He would fill that pitcher and go back to the Temple. And, on the altar, there would be a pitcher of wine. While he lifted pitchers of water and of wine, there would be silence. As he poured the water and the wine on the altar, everyone would pray a silent prayer, "God, please send us Mayim Chayim, send us Living Water.
In the Gospel of John chapter 7 we find:

But when the Jewish Festival of Tabernacles was near, Jesus' brothers said to Him, "Leave Galilee and go to Judea, so that Your disciples there may see the works You do". (John 7:2-3)
Not until halfway through the festival did Jesus go up to the temple courts and begin to teach. The Jews there were amazed and asked, "How did this man get such learning without having been taught?" (John 7:14-15)
On the last and greatest day of the festival, Jesus stood and said in a loud voice, "Let anyone who is thirsty come to Me and drink. Whoever believes in Me, as Scripture has said, rivers of living water will flow from within them." By this he meant the Spirit, whom those who believed in him were later to receive. Up to that time the Spirit had not been given, since Jesus had not yet been glorified. (John 7:37-39)
Whoever believes in Me, rivers of Living Water will "Gihon", will gush forth from within them. In his message on the festival of Sukkot, Pastor Rod said "I don't know the moment when Jesus said this. I don't know the place where Jesus said this. But it wouldn't surprise me that Jesus picked that moment in the Temple, when the crowd was silent and the priest had those two pitchers in the air, from somewhere in the crowd Jesus yelled out 'I am Living Water. Come to Me.' Because this is who Jesus is, this is what Jesus promises to be, this is what Jesus offers us; He offers us Living Water, He is a fountain of Mayim Chayim."
The Festival of Tabernacles was God's way of fusing memories into the minds of the people of Israel, memories of being rescued from slavery in Egypt, of living in tents (tabernacles) for 40 years in the desert, and of God pitching His tent with them. It brought back memories of manna from heaven and springs of Living Water from a rock. This was a foretaste of heaven for Israel. Heaven will be the place where God makes His home, pitches His tent, in our midst. Heaven will be the place where we will be totally dependent on God, for everything. So, while they were celebrating this festival, they were reminded that heaven was not their comfortable homes, it was not making a lot of money. Heaven will be the place where we will have nothing but, because God will be among us, we will lack nothing.
So then, why was there no room for Joseph and Mary in Bethlehem? And why were the Romans taking a census at this time? Because Sukkot was one of the pilgrimage festivals, where every Jew was commanded to go to Jerusalem, there would be thousands upon thousands of people making their way to Jerusalem. Bethlehem was a suburb of Jerusalem, only about 5 ½ miles between them. It makes sense then, that Bethlehem would have been full.
In John 1:14 we find: "And the Word became flesh, and dwelt among us."
The Greek word for "dwelt" is the same as the Hebrew word for "tabernacled."
It's the same word found in Exodus chapter 40, verse 34: "Then the cloud covered the tent of meeting, and the glory of the Lord filled the tabernacle."
So, Sukkot celebrates God tabernacling among us. Doesn't it make sense that the One who is the fulfillment of the tabernacle would be born on the Feast of Tabernacles? There something else that is interesting; there is one festival that we know from Scripture that everyone in the world is going to celebrate.
We find the following in Zechariah chapter 14, verse 16:
Then the survivors from all the nations that have attacked Jerusalem will go up year after year to worship the King, the Lord Almighty, and to celebrate the Festival of Tabernacles.
Doesn't it make sense then, that the King of Kings and the Lord of Lords, our Messiah, would have been born on the Festival of Tabernacles, and that everyone in the world will celebrate His birthday?
If we needed to know the date, God would have included it in the Scriptures. As Rabbi Sobel said, "It doesn't really make a difference when we celebrate the birth of Jesus, just as long as we celebrate it." So this year, just as in years past, we will celebrate the nativity, the birth of Jesus, on December the 25th.
I want to include one last thing. I take encouragement through what I find in Revelation 21, verses 1-5:
Then I saw "a new heaven and a new earth," for the first heaven and the first earth had passed away, and there was no longer any sea. I saw the Holy City, the New Jerusalem, coming down out of heaven from God, prepared as a bride beautifully dressed for her husband. And I heard a loud voice from the throne saying, "Look! God's dwelling place is now among the people, and he will dwell with them. They will be his people, and God Himself will be with them and be their God. He will wipe every tear from their eyes. There will be no more death or mourning or crying or pain, for the old order of things has passed away." He who was seated on the throne said, "I am making everything new!" Then He said, "Write this down, for these words are trustworthy and true."
God will dwell, will tabernacle among us! There will be no more death or mourning or crying or pain. I will have a new body to replace this broken one. And I will see my Lord, face to face. What more could anyone ask for? For me, well, I can't wait.