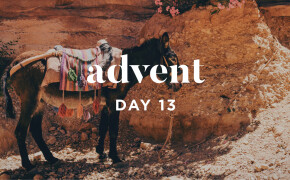 December the 12th finds us in the book of Zechariah chapter 9, verse 9:
Rejoice greatly, Daughter Zion!
Shout, Daughter Jerusalem!
See, your king comes to you,
righteous and victorious,
lowly and riding on a donkey,
on a colt, the foal of a donkey.
And in the book of Psalms chapter 8, verse 2:
Through the praise of children and infants
you have established a stronghold against your enemies,
to silence the foe and the avenger.
These two passages are a foreshadowing of Jesus' triumphal entry into Jerusalem only a week before His crucifixion. But why a donkey, why not a chariot or a horse as every other king has done? Because this King would be different than any other king the world has ever known. This King would be humble, He would be righteous, and He would be the fullness of grace and truth.
Then, who are God's enemies? Who are the foe and the avenger? His enemies, the foe and the avenger are those who rebel against Him and fight what He is doing in the world. But how can children and infants be a stronghold against God's enemies? As David said in Psalm 22:
Yet You are holy,
O You who are enthroned upon the praises of Israel. (Psalm 22:3)
God could certainly establish a stronghold on the praises of children and infants. One commentary said that the "children and infants" should not be taken literally. It was most likely disciples who had childlike faith in Jesus. I believe it was probably both. Jesus loved children and at times He gave them preferential treatment:
Then people brought little children to Jesus for him to place his hands on them and pray for them. But the disciples rebuked them.
Jesus said, "Let the little children come to me, and do not hinder them, for the kingdom of heaven belongs to such as these." (Matthew 19:13-14)
At that time Jesus said, "I praise you, Father, Lord of heaven and earth, because you have hidden these things from the wise and learned, and revealed them to little children. Yes, Father, for this is what you were pleased to do. (Matthew 11:25-26)
But God chose the foolish things of the world to shame the wise; God chose the weak things of the world to shame the strong. (1 Corinthians 1:27)
I love that about God!
The Gospel of Matthew chapter 21, in verses 1-17, Matthew relates the incident that fulfilled these two Messianic prophecies in Zechariah and Psalms.
As they approached Jerusalem and came to Bethphage on the Mount of Olives, Jesus sent two disciples, saying to them, "Go to the village ahead of you, and at once you will find a donkey tied there, with her colt by her. Untie them and bring them to me. If anyone says anything to you, say that the Lord needs them, and he will send them right away."
This took place to fulfill what was spoken through the prophet:
"Say to Daughter Zion,
'See, your king comes to you,
gentle and riding on a donkey,
and on a colt, the foal of a donkey.'"
The disciples went and did as Jesus had instructed them. They brought the donkey and the colt and placed their cloaks on them for Jesus to sit on. A very large crowd spread their cloaks on the road, while others cut branches from the trees and spread them on the road. The crowds that went ahead of him and those that followed shouted,
"Hosanna to the Son of David!"
"Blessed is he who comes in the name of the Lord!"
"Hosanna in the highest heaven!"
When Jesus entered Jerusalem, the whole city was stirred and asked, "Who is this?"
The crowds answered, "This is Jesus, the prophet from Nazareth in Galilee."
Jesus entered the temple courts and drove out all who were buying and selling there. He overturned the tables of the money changers and the benches of those selling doves. "It is written," he said to them, "'My house will be called a house of prayer,' but you are making it 'a den of robbers.'"
The blind and the lame came to him at the temple, and he healed them. But when the chief priests and the teachers of the law saw the wonderful things he did and the children shouting in the temple courts, "Hosanna to the Son of David," they were indignant.
"Do you hear what these children are saying?" they asked him.
"Yes," replied Jesus, "have you never read,
"'From the lips of children and infants
you, Lord, have called forth your praise'?"
And he left them and went out of the city to Bethany, where he spent the night.
The next day Jesus came back to Jerusalem from Bethany. Later in Matthew chapter 21 he describes what happened.
Jesus entered the temple courts, and, while he was teaching, the chief priests and the elders of the people came to him. "By what authority are you doing these things?" they asked. "And who gave you this authority?"
Jesus replied, "I will also ask you one question. If you answer me, I will tell you by what authority I am doing these things. John's baptism—where did it come from? Was it from heaven, or of human origin?"
They discussed it among themselves and said, "If we say, 'From heaven,' he will ask, 'Then why didn't you believe him?' But if we say, 'Of human origin'—we are afraid of the people, for they all hold that John was a prophet."
So they answered Jesus, "We don't know."
Then he said, "Neither will I tell you by what authority I am doing these things. (Matthew 21:23-27)
When Rod recently taught on this passage, he commented, "this is so rabbinical, that you answer a question with a question." They were stuck, trapped. This is a big deal for the best trained clergy and teachers of that day to say they don't know.
They were questioning Jesus' authority. Rod said the Hebrew word for "authority" is Smicha (or S'micha or Semicha, I found different spellings online). Its literal translation is the "laying on the hands." This word is used for a rabbinical ordination. Who gave Jesus this authority? We find the answer in the Gospel of Matthew:
Then Jesus arrived from Galilee at the Jordan coming to John, to be baptized by him. But John tried to prevent Him, saying, "I have need to be baptized by You, and do You come to me?" But Jesus answering said to him, "Permit it at this time; for in this way it is fitting for us to fulfill all righteousness." Then he permitted Him. After being baptized, Jesus came up immediately from the water; and behold, the heavens were opened, and he saw the Spirit of God descending as a dove and lighting on Him, and behold, a voice out of the heavens said, "This is My beloved Son, in whom I am well-pleased." (Matthew 3:13-17)
At Jesus' baptism, when His ministry began, the Holy Spirit like a dove came down and alighted on Jesus. Then God the Father spoke from heaven from heaven and said "This is My beloved Son, in whom I am well-pleased." The Holy Spirit in the form of a dove landing on Jesus is God laying His hands on Jesus. And the voice of God from heaven is saying "His authority comes from me."
Rod went on to talk about Jesus healing the leper, as found in Matthew chapter 8:
When Jesus came down from the mountain, large crowds followed Him. And a leper came to Him and bowed down before Him, and said, "Lord, if You are willing, You can make me clean." Jesus stretched out His hand and touched him, saying, "I am willing; be cleansed." And immediately his leprosy was cleansed. (Matthew 8:1-3)
We are all unclean, we are all lepers. Jesus took all of our uncleanness, all of our leprosy upon Himself on the cross. In exchange He gave us all of His beauty, all of His righteousness. We are not only forgiven by the blood of the Lamb, we are made clean washed in His blood.
The Jewish people probably would have known that these prophecies in Zechariah and Psalms were about the coming Messiah. By putting their cloaks on the road before Jesus (an act reserved for royalty) they were saying "We know You are the Messiah". By calling Jesus the "Son of David" they were further acknowledging that Jesus is the long awaited Messiah. The chief priests and the elders certainly would have known. Jesus healed the blind and the lame at the temple, enough people so that the Chief Priests and the Teachers of the Law noted "the wonderful things He did". But they still couldn't acknowledge that His authority was from God, that He was God in the flesh. They became "indignant" because the children were shouting praises to Jesus. When the Priests asked Jesus if He heard what the children were saying, He quoted Psalm 8:2 back to them. By doing this, Jesus claimed the right to receive worship as God, which He, of course, was.
I've given a very quick overview of the Sunday message given a few weeks ago on Matthew 8. Those of you that missed it should listen to it! You can find the message here.

The ornaments that go beneath the tree tonight are a small donkey and a small child.