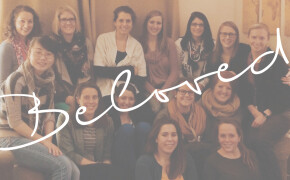 A story of obedience and fruit.
Beloved began very simply. My roommate, Mel, and I were confident in God's prompting that in Fall 2014 we were to host a women's bible study in our living room. The heart of the group was to be scripture-centered as we facilitated a community that would learn how to read and rely on the Word together, while also experiencing the power of testimony. Then, when that first Tuesday evening finally arrived, we had no one show up to our door. However, through this God repositioned our hearts. It was not about who or how many came, but it was about being obedient to what God was asking us to do; be available and remain focused on Him.
In the following weeks, our cozy living room began to fill up with young, mostly post-college women who were all parched for authentic community and desiring to grow in the maturity of their faith. It has been powerful to experience the ability of the Word to give life and renew our minds weekly. We have also had the privilege of having some older women of the church come in to share parts of their story to our group. Through this we have been encouraged by the influence the Word has had in the lives of the women we admire. As we have continued Beloved into 2015, God has continued to bring more women into this community.
Through all of this we have learned more about who God is and what He is about. It is through very imperfect journeys of learning how to abide in Christ that we are blessed to share fruit we see in our lives. John 15:7-8 sums it up perfectly, "If you abide in me, and my words abide in you, ask whatever you wish, and it will be done for you. By this my Father is glorified, that you bear much fruit and so prove to be my disciples."
~ Kellie