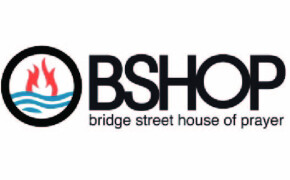 Update from summer and fall 2014. A Tribute, Days of Summer, Mission School 2.0, Resurgence.
It has been a full and fruitful summer and start to fall at the Bridge Street House of Prayer!
We had five church youth groups on Immersion trips this summer and this fall we started a new school year with a brand new class at the Bridge Street Mission School and a brand new after school tutoring program.
We want to recognize and apologize for the fact that we got behind in the sending of these updates. We have had a number of you ask about this, and we're glad to know you've missed them. We have renewed our commitment to keeping you current and in the loop, no matter how full our lives of ministry become. Thanks for your patience!
A Tribute
So, being affectionately desirous of you, we were ready to share with you not only the gospel of God but also our own selves, because you had become very dear to us. (1 Thessalonians 2:8, ESV)

Some people would label our ministry "incarnational." You see, the West Side of Grand Rapids is not only the geographic location of our ministry, it is the place that we live. It is the place where we worship, play, and raise our kids. While we get to see God move in incredible ways through various ministries of the Bridge Street House of Prayer, living in the neighborhood that we minister in gives us opportunities to share the love of Christ with many of our neighbors who do not fit into any of our "programs." Recently I had such an opportunity when an elderly neighbor asked me to officiate his wife's funeral.

Rick and Donna have lived in the neighborhood longer than we have, and in the nearly ten years we've had to get to know them, they became very, very dear to us. Donna's passing a few weeks ago was grieved by us, her family, and many in the neighborhood. As her health began to quickly deteriorate over the last several months, one of her Hospice workers asked if she needed a pastor to come visit her. Her response: "No, we have several pastors all around us." Needless to say, I was more than honored and humbled to visit with her and Rick as her health declined, and help lead their family through the grieving process at her funeral. More than that, I was blessed to be able to share the hope that we have in Christ.

On one of our many visits to their house before our neighbor's death, I asked her if she believed in Jesus as her Lord and Savior. Unequivocally, she said yes. I was able to comfort her family with this assurance, as well as testify about the resurrection of Jesus and the hope that we have in him to many who do not have a foundation of faith.

Now, we do not have a program for this type of ministry at the BSHOP. Instead, we simply have a relationship with our neighbors. We believe this is the most effective way to minister to a neighborhood. More importantly, we believe this is how Jesus lived.

Thank again for supporting us on this journey.
Ryan Waalkes, Director
Days of Summer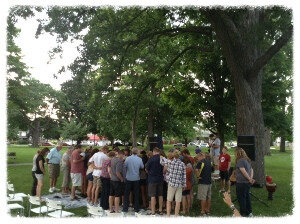 When I was a kid, I loved building bridges. The first bridge I remember constructing was in grade school with toothpicks and mini marshmallows. Clearly my teachers cared more about the fun and edibility of the materials than the structural integrity because no one could seem to build one that could carry even it's own weight. But as I got older, I upgraded to popsicle sticks held together with Elmer's glue, which could hold a few textbooks. If I wasn't in the class room, I'd be balancing over felled logs over a creek behind our house in Caledonia. I loved the challenge, and I loved exploring places that were difficult to get to. As a kid, bridges were necessary to fill the gap from the known to the unknown. I didn't realize then that I would be building bridges for the rest of my life.
Immersion is bridging a gap between the streets and the Church. This past summer, youth groups from local churches around Grand Rapids spent a week and a half with our community in the West Side of Grand Rapids, being challenged to know God and make him known in our neighborhood and city. The first 3 days of Immersion are spent building community and hearing from God, camping in the backwoods and beach of beautiful Lake Michigan. The trip continues with 6 days on the West Side, with teaching on following Jesus, living with no compromise, finding our identity in Christ, and living life on mission. Students are challenged to immediately put the teaching into practice by serving kids in the neighborhood, working on neighbor's houses or landscaping, prayer walking, and more. This summer was incredible!
During our first Immersion, the students played an important role in running our first ever KidsGames at Sibley Elementary every afternoon. Kids Games is a long running kids program that uses sports and games to spread the gospel globally. Our prayer was to see God's Kingdom come and His will be done. We saw exactly that! During small group times the kids were learning about Jesus, asking questions, and praying with our Immersion students. What an experience for everyone involved! Over 130 kids heard about Jesus every day, and many of them went home with a Bible. Our relationship with the schools and neighborhood are stronger, and the Kingdom of Heaven is being revealed here on the West Side.
Derek Sterenberg, Youth Dischipleship Director
Mission School 2.0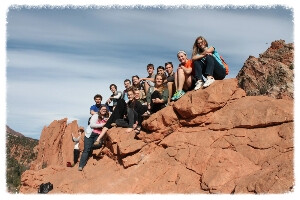 We graduated our first class of 7 students in May and started our second school in September. We currently have 10 students enrolled in the Bridge Street Mission School and once again, we are seeing God work wonders. So far they've been sitting under teaching on the Bible, the Father heart of God, Jesus, the Holy Spirit, spiritual warfare, sanctity of human life, and more. Students and staff are already preparing for phase 2, in which we'll be sending a team to Guatemala and a team to India. Stay tuned!
Resurgence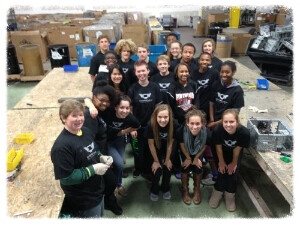 This spring, the BSHOP was honored to be awarded a $2,500 grant from the Grand Rapids Community Foundation Youth Grant Committee (GRCF YGC) for a tutoring program that we launched this fall.
We call the program Resurgence. Currently we have 6 middle school students attending consistently and are hoping to add 4 more students soon. The students have been focusing on reading and math. They particularly enjoy getting to work on the iPads, which were a part of what the grant financed. As a group we have been working on team building and learning how to be encouraging. We have also been doing devotions together and praying every day. There is one student in particular who loves to close each day in prayer.
I am blessed to have a really great team of tutors who help the students reach their goals and encourage them to stick with it when the work is hard.
Kate Donald, Social Work Coordinator
P.S. We are still looking for a few more tutors who are available on Fridays, email if you are interested!
Stay Tuned
We have much more to fill you in on, and look forward to doing so in the 2014 Year End Report we'll be sending you next month.
If you would like to sign-up to receive the BSHOP updates directly or access their newsletter archives, CLICK HERE.