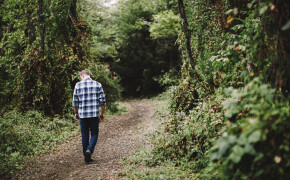 A conversation about recovery and faith with Steve VanPoolen and Aaron Sorrels, a member of our Crossroads family.
Steve: So, Aaron, you're a comedian, a speaker, and a recovery support partner who is known as The Unemployed Alcoholic. How'd that happen?

Aaron: Well, Steve… It was easy, haha!
I was unemployed, battling alcoholism and then I started doing comedy. Just like that, I went from being AN unemployed alcoholic to THE Unemployed Alcoholic, and this is the best job I've ever had. Now I help people laugh while highlighting recovery and faith.
I am skipping over a few steps, though — 12 steps, to be exact.
In all seriousness, I discovered alcohol in the 5th grade, and by the 7th grade it was a big part of my identity. I carried this with me for the next 25 years, allowing alcohol to dominate every aspect of my life.
My health was fading, my relationships were suffering. And while I recognized this as a problem. I was unable to change it. I was stuck in this continuous loop of alcohol abuse, regret, avoidance, compromise, and repeated alcohol abuse.
As I looked at myself in the mirror, I did not like what I had become. I knew that if I did not find a way to change, I would lose everything that was of true value.
I left my job and fully committed to a recovery program and a great church. I pursued recovery and began restoring the relationships with my wife, myself, and my God.
I thought that might take a couple weeks and then I'd get back to work, but that's not what happened. A couple weeks of unemployment turned to a couple months, then 6 months, 9 months, 12 months.
It was a painful time, but some incredible things happened.
In October of this year, I celebrated three years sobriety. My relationship with my wife is now stronger than it has ever been, and I feel I am doing exactly what God has positioned me to do.
I now like the person staring back at me in the mirror.

Steve: What was the hardest part about recovery?

Aaron: Walking towards the front door of a recovery meeting for the first time was terrifying. My thoughts raced and emotions raged.
I overcame my terror by admitting to myself that I was broken and that I needed help. I overcame my terror by humbling myself enough to seek help.
This was my first step towards recovery, both literally and figuratively.
Recovery Step 1 — We admitted we were powerless over our addictions and compulsive behaviors, that our lives had become unmanageable.

Steve: What is one thing you learned through the 12-step recovery process?

Aaron: Recovery taught me to share.
Despite a deep sense of shame, I began sharing openly about my struggles. Much to my surprise, people did not run. They did not ridicule, reject or judge. They simply offered their support.
My recovery group was a safe place where I took off my mask and admitted to God, myself and others that I wasn't perfect.
Recovery Step 5 — We admitted to God, to ourselves, and to another human being the exact nature of our wrongs.

Steve: How did Jesus transform the way you saw your addiction and lead you through the recovery process?

Aaron: Jesus is my Lord and Savior. I am a new person in Him. I am forgiven. I am loved and I am valuable. Without these truths, I would not have achieved sobriety.
Also, the 12 steps in recovery are pulled directly from The Bible. The recovery process is essentially just a good old fashioned, God inspired, no-nonsense, gritty, roll up your sleeves and get busy because your life depends on it, spiritual growth plan.
It's pretty awesome. In a way, I am thankful to have struggled with addiction because of the purpose and spiritual depth I've found through recovery and faith.
---

Crossroads Bible Church, Monroe Community Church, and Aaron Sorrels are praying into and pursuing the creation of a Christ centered recovery community right here in our community.

If you are passionate about, curious about, or in need of recovery, please email Judy Black at before January 21st to learn more.