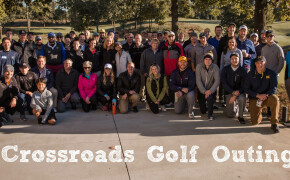 On September 29, Crossroads had their first golf outing at The Mines Golf Course. To me, the primary purpose of this event was for people at Crossroads to have an opportunity to meet others and engage in a setting other than the Saturday and Sunday services. Secondly, I thought it would be a good way to raise some money for Stocking Elementary School. Over the span of a couple months, we planned a golf scramble that accomplished both of these goals.
First, a little background. Back in April, my wife Rebecca and I attended the showing of Paul, Apostle of Christ at Celebration Cinema. Before the movie started, Pastor Rod spoke for a moment and said something that stuck out to me: "Crossroads needs to have more fun". This was exciting to me because the wheels of the golf outing were in motion.
During a planning session, Steve VanPoolen connected me with Tyler Smies, a Crossroads partner who is the Executive Director for The First Tee of West Michigan. The First Tee is an international youth development organization that introduces the game of golf and its inherent values to young people. The First Tee works with students from Stocking and provides their programs free of charge at a west side golf course, Lincoln Country Club. This was the perfect connection to our golf outing and Stocking students.
We had 52 players sign up and ended up with the most beautiful, bright, and crisp fall morning. We met a few First Tee participants who were there to help our teams with a few shots around the course. It was great to meet them and see them play. They took tee shots and more often than not, their golf shots were taken!
$1,000 was raised through the event to continue The First Tee of West Michigan's partnership with Stocking Elementary students. If you're interested in hearing more about The First Tee, volunteering (they need more volunteer coaches!), or donating, visit their website at www.thefirstteewestmichigan.org, or reach out to Tyler Smies at .
We had a wonderful time playing, eating, and enjoying each other's company. We can't wait for next year! If you are interested in helping plan, please let me know.
Mark Iveson