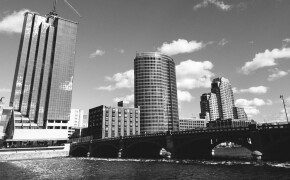 In light of the events that have transpired over the past few months, the issue of race, justice and equity has been on the forefront of many news outlets, social media posts, and many peoples' minds throughout our society. There have been a myriad of protests, discussions, statements made, and viewpoints shared that have been all over the board. When our culture and society seem to be inundated with many different voices and even chaos, our heart is that the Church would be a place of love, compassion, truth, and justice that displays God's heart and Shalom. It doesn't mean that we have all of the answers and will always respond in a correct way, but that we would be present in this issue with a posture of humility, listening and responding in accordance with God's heart and His leading.
The Missions Team has been talking about our response to the issue of racial inequity in our community. We, as Crossroads Bible Church, have an amazing opportunity to live into our calling to be a Kingdom of Priests that truly embody the mandate to be people of Justice, Mercy, and Discipleship. We don't believe that this will be an issue that will be solved overnight, but rather transformation that will be more like a marathon rather than a sprint. Our aim is not to be a church that feeds off of the hype but also that doesn't bury our heads into the sand. We want to be consistent and faithful in the path that God has called us to as a community that is on mission in the city and nations.
In all honesty, these past few months haven't caused us to think that we need to make a course correction in ways that we are engaging the city around this issue, but have rather furthered our commitment to the direction we are headed and enhanced our understanding of how to engage. Many of our partner organizations are serving communities of color through education, healthcare, housing, food insecurity, and other opportunities. Our heart is to continue our partnership and engagement with these organizations. At the same time, we see that many non-profit organizations within our city are serving communities of color, which highlights some of the disparities and hardships that these communities face in our society. Therefore, we want to stand with these communities and advocate for them to be able to live in and be all that God has created them to be.
All that to say, we want to be a Kingdom-minded community that enters into difficult situations and issues, rather than moving away from them. Our team has taken time over the past few weeks to pray, listen, learn and explore ways that we as Crossroads Bible Church can engage in this issue. This Fall, we are planning on hosting a seminar and also providing a book club that will create space for dialogue and looking more in-depth at the issue of race and justice in our community. Also, below are some books that we have been reading, audio from seminars on race that we as a staff have attended, and sermons of people that have spoken on this issue of Race and Faith. Please note that simply because we are listing these resources, it doesn't mean that we agree completely with all of the points or positions. Some of these books or resources might cause internal tension to arise within us. Yet in these places of tension we can truly grow and have God's Spirit challenge and confirm in us the things that He wants to do in our hearts. This truly is an incredible time to be alive and ambassadors of God's Kingdom in our city.
---
Resources
Books:
– "A City Within A City" | Todd E. Robinson
– "White Awake" | Daniel Hill, Pastor at River City Community Church, Chicago
Audio Resources:
– Talking Points Conference | Grand Rapids Theological Seminary
Crossroads Staff attended this Conference in the Spring of 2018
Listen Here
– Chris Brooks | Pastor, Woodside Bible Church
Spoke at Luis Palau Pastors' Conference in Grand Rapids
Listen Here