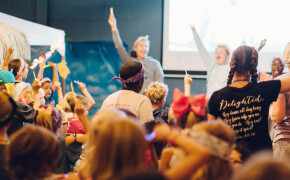 Audrey Greenfield recently shared a story with us about how God has been working in the life of her daughter. We wanted to share it with you, our Crossroads family, as a tiny glimpse into the ways that God working in and through the hearts of our kids.
Thank you for your faithful leadership of the kid's ministry! Our family has been blessed and encouraged by the things our daughter Jonah learns each Sunday.
I can't tell you the number of times in the last week that we've sung a song she learned in class to help with bad dreams, fear of being alone, fear of going somewhere new without us, and just general loneliness. I'm not sure if it's a song that Miss Trisha or Patty sang, or if it was just a song from one of the teachings, but it's to the tune of "Frere Jacques" and the words are:
God is with us x2
Everywhere x2
He will never leave us x2
Trust in God x2
Singing it with her immediately calms her. She will remind me of the truths in the lyrics when she needs comfort: "Mom, God will never leave us. He is always with us." At THREE years old!
And it's not just a good reminder for her to help me get her back to bed quickly or keep her from having a meltdown; it's everlasting truth that she clings to because He's faithful. Watching Him meet her where she is with His truth is so edifying. It is such a blessing to be a parent, to fall in love with the Lord again by re-learning simple gospel truths through the eyes and hearts of my kids.
Thank you for leading our kids in truth every Sunday. They listen. They remember. And they are bearing the fruit of your efforts.