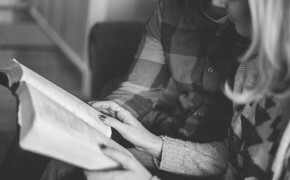 Husband's and Wife's Responses
As we discussed earlier, both husband and wife have a response tied to their core role, and this response is defined as the reaction to, feedback to, or outflow of a core role exhibited in thought, word, or action, which encourages and propels the spouse to live out their core role, looping marriage into an interconnected cycle. A husband's and wife's thoughts, actions, and speech have the power to reflect God, to fulfill their core roles, and to encourage their spouse in their role.
Paul, in Ephesians, uses specific words for responses within marriage:
Wives, submit yourselves to your own husbands as you do to the Lord. (Ephesians 5:22)
Husbands, love your wives, just as Christ loved the church and gave himself up for her. (Ephesians 5:25)
Submit
There has been a lot of cultural baggage attached to this word, leaving many to misinterpret what God intended. Many have skipped over Ephesians 5:21, God's call for husband and wife to mutually submit, and instead landed on Ephesians 5:22, God's call for wives to submit to their husbands. Paul is portraying the sacred and divine mutual partnership that God designed, one where both are laying down their lives for each other. Submission is best understood through Christ's example as described in Philippians 2:5-11.
It is within that framework that Paul continues with specific direction for the wife and husband. Submission is a wife's cherishing response, not her core role as many have made it. It is God's specific call to empower and encourage her husband to be all that he was created to be. Paul paints the picture of submission over the backdrop of Christ and the church. It is a wife's privilege to honor and journey with her husband, even yielding to his lead, as he reflects Christ in his love and admiration for her and their family.
If a wife grasps her core role as an ezer kenegdo, she will realize that the view of submission as being subservient is in opposition to her role and call as a wife. She plays a vital and active part in the marriage, not only for the good of her husband, but also for the good of the relationship. Marriages that dishonor the wife's role and diminish her presence and voice suffer greatly and do not properly reflect God's design for marriage.
Biblical submission for a wife is not:
-Always agreeing with her husband
-Putting the will of her husband above the will of Christ
-Getting her personal and spiritual strength primarily or exclusively through her husband
-Acting out of fear
-Living with verbal, emotional, mental, spiritual, or physical abuse
-Following a husband into sin or enabling his sinful behavior
Love
We may think love does not have cultural baggage like submission does, but love in our culture has become an emotion, often self-centered, and even just a parting greeting or cliché. However, the love Paul defines in Ephesians is a sacrificial, Christlike, "going to the cross" kind of love. This is drastically different than the type of love promoted or exhibited by our culture.
"How did Christ love the church? By dying on a cross; by giving Himself, naked and bleeding, to suffer for her; by putting her needs above His own; by sacrificing everything for her." And that is precisely a husband's call to love his wife.
If women thought their call to submit was hard and costly, how would they feel if they were commanded by Paul to love like Jesus loved? He is the ultimate example of laying down your life for another—and God specifically uses that visual to describe what a husband should be to his wife. "Ephesians 5:22 [submission] is sometimes critiqued as a mandate for spousal abuse. Tragically, it has been misused that way. But the command to husbands makes the reading impossible."
Your Biblical Duty
There is no horizontal relationship in this world more important and sacred than your marriage. Yet unfortunately our spouse often gets the worst of us. How we should treat our spouses is written all over the Bible, not just in verses that say "husband" and "wife." All verses that speak about Christian relationships apply to marriage too. As you look over the following verses, read them in view of your relationship with your spouse. These verses encourage and challenge us to be Christ to our spouses in every sense of the word:
My command is this: Love each other as I have loved you (John 15:12). Do not let any unwholesome talk come out of your mouths, but only what is helpful for building others up according to their needs, that it may benefit those who listen (Ephesians 4:29). Be kind and compassionate to one another, forgiving each other, just as in Christ God forgave you (Ephesians 4:32). Submit to one another out of reverence for Christ (Ephesians 5:21). Love must be sincere. Hate what is evil; cling to what is good. Be devoted to one another in love. Honor one another above yourselves. Never be lacking in zeal, but keep your spiritual fervor, serving the Lord. Be joyful in hope, patient in affliction, faithful in prayer (Romans 12:9-12). Whatever happens, conduct yourselves in a manner worthy of the gospel of Christ (Philippians 1:27a). Therefore, as God's chosen people, holy and dearly loved, clothe yourselves with compassion, kindness, humility, gentleness and patience. Bear with each other and forgive one another if any of you has a grievance against someone. Forgive as the Lord forgave you. And over all these virtues put on love, which binds them all together in perfect unity (Colossians 3:12-14).
Cherish is a word not common in today's vocabulary, but it adds a deeper dimension to the concepts of loving and submitting. Cherish is defined as " to hold or treat as dear; to care for tenderly; nurture." In his book Cherish, Gary Thomas uses the concept of cherishing to help us apply biblical truth in concrete ways by highlighting the importance of how a husband and wife treat each other. Your biblical responsibility calls us to focus on outdoing our spouse in showing love. Gary Thomas explains, "The act of consistently noticing and honoring our spouses cultivates and maintains a certain kind of relationship, and it shapes our hearts. Noticing and honoring sustains the force and power of cherishing. When we stop noticing and stop honoring our spouses in the little things, the relationship starves."
Here are some ways in which you can cherish your spouse through thought, word, and deed:
-Believe the best about your spouse
-Be committed to praying for them
-Be interested in what interests them
-Notice the helpful things your spouse does
-Speak encouragement and praise often
-Have fun together
-Reminisce about your favorite memories
-Lessen their burdens by helping
-Be a student of your spouse
-Be slow to correct, scrutinize, or control
-Yield to the other's preferences, even when you prefer something else
-Recognize their godly role and affirm every attempt they make
Every marriage needs to embrace the importance of cultivating kindness and praise. Gary Thomas promises, "Exploring and understanding what it means to cherish each other will enrich, deepen, and spiritually strengthen our marriages." If you sense that kindness is dwindling in your relationship, we encourage you to consider how learning to cherish each other may pay dividends in your marriage.
In your own words describe how God is calling you to act as a husband or wife, in response to your God-given role.
Discussion Questions:
In your own words, how would you describe how God asks you to respond to your spouse's God-given role?
How would you describe the interconnection between the husband's and wife's core roles?
What purposes do our responses serve in God's design?
If your marriage functioned as God designed it, what would be different about it?
What are some ways God is calling you to cherish your partner?
Other Posts:
Husband's Core Role
Wife's Core Role
God's Design for Marriage | Created Equals Yet Distinct
God's Design for Marriage | Created to Receive