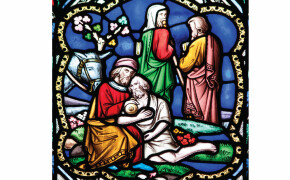 A story of fruit coming out of the March 8 message of the Good Samaritan
When I was in second or third grade, our school did a musical called, "Good Sam". It was the story of the good Samaritan. I still can recall the melodies and lyrics 40-something years later…
Who's your neighbor, is he black or brown or white? Does he go to church on Sunday or to temple on Friday night?
From Jerusalem to Jericho the road is long and dark, and there's more danger on the way than the animals in the ark. It's long and dark, long and dark, from Jerusalem to Jericho…ohh noooo!

Since that time, whenever I read the story, or hear a sermon on the topic, not only do those words come flooding back and play in my head, but the familiar struggle with asking the question "who's my neighbor?" resurfaces.
I have always wrestled with this question and remarkably on the way to Crossroads at Scribner and Leonard we pass a panhandler, begging for money, most every Sunday morning, and we pass by on the OTHER side of the street. Ashamedly, I found myself thankful for the bitter cold weather which meant he wouldn't be there, and it gave my guilt some rest. In my flesh I made up that he was warm in a shelter somewhere and "someone else" could take care of him. And I reasoned, "we support those kind of ministries, so it's all good, right?"
With the warmer weather yesterday, I knew he would be back and said to my family, "this kind of feels like the good Samaritan story… passing by this homeless man every week." So, "of course", (the phrase which we've grown accustomed to saying when the Holy Spirit is SUPER obvious) came out of our lips yesterday when the topic of the teaching was The Good Samaritan.
Afterwards, we talked at our comfortable downtown eatery about what it looks like to "go and do likewise"! And God in His graciousness, gave us the opportunity not 30 minutes later. As we walked the blocks back to our car, we were approached by a homeless woman who asked us for $1. Immediately my thoughts went to "you're not supposed to give money, we will just politely decline." My husband however, asked if we could pray for her. To my astonishment she IMMEDIATELY DROPPED the grocery bags and lunchbox that she was carrying and grabbed for our hands. "Oh YES! I need prayer," she cried out and began to share her story. As we stood in a circle, hand in hand on the corner of Ionia and Weston, David prayed for Shae, (She has a name! Why have I never thought about that?!) and she began weeping. Weeping tears of pain, of abandonment, of shame, of feeling disgraced. Oh how we ALL have fallen short of the glory of God. Oh how I have fallen so short of showing mercy towards others-towards my neighbors-black, brown, and white and everything in-between. The woman who I was going to politely dismiss gave all of us all a hug! Imagine that! God certainly did a work in our hearts yesterday!
So where does that leave us next week as we weather-permitting see "our" homeless neighbor on the way to church? Excited to see how God will move. I think we'll start with bringing him some warm muffins and asking what his name is...
Luke 10:36-37 "Which of these three do you think was a neighbor to the man who fell into the hands of robbers?" The expert in the law replied, "The one who had mercy on him."Jesus told him, "Go and do likewise."
Rod, may you be encouraged by how God is using you to shepherd his sheep! Brad, may you be encouraged by how God is using you to call attention to ALL our neighbors!
If you have a story, or know of a story, about God bearing fruit that you might like to share, please contact