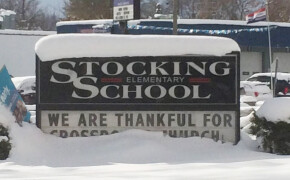 What an amazing sight we have seen for weeks. Initially seeing Crossroads step up to the challenge of a coat drive for Stocking Elementary to those coats arriving at our building to the delivery of them into the hands of children and families.
This Thursday Stocking Elementary hosted a family night where they handed out he coats. Eight-two families showed up with 123 students. This is a big turn out for a family event. Caroline Geist, the Community School Coordinator for Stocking, said, "It was amazing! The kids were thrilled to get a brand new coat. I have almost teared up several times today seeing them so excited in their coats. This seriously is such a blessing to these families!"
Here is an account from a Crossroads volunteer:
While I drove up to Stocking School, I was moved to see moms, dads, grandparents, and children looking like a trail of little ants going after a sugary treat walking from every street and sidewalk headed into the school for new, warm winter coats. As I walked up to the front door of school, a dad and his young son were walking out and I heard, "Dad, it's cold outside and I'm SO WARM!" To this, dad replied, "That's what this is all about, bud." And his son said, "I'm so grateful!" This was heartwarming and incredibly moving to see firsthand the kingdom of God opening right before my eyes.
The remaining coats will be given to kids who really need a coat and were unable to attend the event. Bless our church family for noticing a need, taking the challenge, and stepping into it!