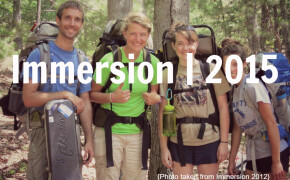 News about this summer's High School Immersion Trip.
Here is a story of how God is working in our community to transform lives:
I recently had to answer the question… Where is God leading you and your ministry in this next season? The main word that I could think of if I had to put it into a single word is Continue. If you were to ask a gardener, or a shepherd I think they would say something similar. My hope, vision, and goal is to see students at Crossroads Know Grow and Go, and that is what is happening. Year after year we get to see students graduate and move on into adulthood; we get to hear stories from past students about their journey the faith, and this encourages us to press on.
One example that really excites me is the opportunity 14 high-schoolers have accepted. To be a part of a 9 day Immersion Mission Trip at the Bridge Street House of Prayer (BSHO). An adventure like this excites me in so many ways, but the two main reasons are…we get more time in those 9 days as a team/family than we do in all the large and small group gatherings all year combined, in turn we get to see the students Know God more, Grow in their walk with Him, and Go to the world.
Also, check out their Immersion website
PS. One awesome part of immersion is that it is right here in our community. Right in our neighborhood. So we have been able to have a large group gathering at the BSHOP already. We get to fundraise by serving ahead of time in ways like baby sitting for Abba's Answer, working at the West Side Clean up, and serving at our upcoming church picnic. Things right here in our neighborhood, to prepare for a trip to our neighborhood, and to build relationships with people in our neighborhood.