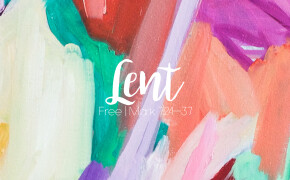 The book of Mark takes us through another snapshot of the birth, life, and death of Jesus Christ, another color bleeding through in the kaleidoscope that is the Son of Man. Mark seems to highlight over and over again the boundary breaking Messiah that Jesus is, pushing past their understanding of the law, offending the religious; who is this Lord of all, that even the wind and waves obey Him?
Jesus arises and walks to Tyre, which to the original hearer would invoke question, wonder, and even disgust. Tyre is wholly out of Jewish territory, the former enemy of Israel. Much like this picture of Christ that Mark is trying to share with us, everywhere and everything Jesus does is intentional and with purpose.
I am a standard, take-the-temperature-of-the-room, make everyone happy, people pleaser. Although I've learned through the years that you can see or hear my disapproval of certain things from the emotions on my face or the tone of my voice, my standard setting is to not rock the boat and to have the approval of all who are around me. All this to say, I would never label myself anyone's enemy.
Yet, from the discourse we see between the Syrophoenician woman and Jesus, we know she understands her identity full well. She is an enemy of the Jewish people, a gentile, a woman, everything would label her as outsider. There is no defending the seeming scorn we hear from the words of Jesus.
I don't think we take seriously enough what our sin labels us as before a holy God. We are all enemies. We are far away from this God, and like Isaiah, our correct response before Him is simply, "woe is me, for I am lost, for I am a person of unclean lips, and I dwell in the midst of people of unclean lips. (Isaiah 6:5)"
Recognizing the full picture of this truth, our identity as enemy, our sinfulness, actually produces a humility that can accept the reality of our desperate need for a mediator, the reality of our sickness and evil to be healed by a Savior. The Syrophoenician woman knows this, and in her humility, casts herself entirely at the feet of Jesus hoping just for a scrap, a crumb, of what she knows this Man can do: He can save.
This message stays true for the next pericope in our passage, the very same verbiage from Isaiah 35:6 of, "then shall the lame man leap like a deer, and the tongue of the mute sing for joy," making its echoes as the prophecy comes to fulfillment.
It is only the work of Jesus that can set us free. Only the ephphatha of Jesus can set us free.
The Kingdom has come. These healings are simply signs, markers that what was once dead will rise, the brokenness will be restored, the King long awaited is here. Jesus Christ, inaugurating this new Kingdom that He is opening our hearts to enter into.
As we continue to journey through Mark, we will find out what sort of shift this new Kingdom brings to those Jesus sets free, a total change of what we knew of victory, of abundance, of blessing. As the world continues to throw the message of self-esteem and "you can do it" as essential, we can rest assured that those who are lowly are the truly blessed ones, as they know they are utterly dependent for the very breath they breathe.
Freedom is found in this new yoke, in God-with-us, in our identity reclaimed from enemy to adopted child. Freedom is found not in our own failed attempts to save ourselves and those around us, but in the work of Jesus. What we will soon find out is that this gospel will mean many deaths, but in this steady pattern of what this new Kingdom brings about, it will always mean resurrection. This gospel, this good news, is our livelihood.
He has done all things well. Let us never stop proclaiming.
---