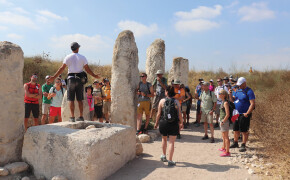 This summer, married couples from our church family had the opportunity to join Mark & Stephanie Teslaa and Rod & Libby VanSolkema on a marriage-focused trip through Israel. Two members of our church family—Peggy Powlus and Allison Breuker—have shared a few stories of the ways that God worked in their hearts and marriages throughout the course of this trip.
As I am sitting at my kitchen table contemplating what to say in this blog about the 2019 Marriage-focused, Crossroads Ancient Paths Israel Trip, my heart is full of joy. This trip was far more than my husband Scott and I ever could have imagined. God's presence was surely with us!
God's love was showered upon us by Rod and Libby who introduced us to the land and the story, and by Mark and Stephanie who led the marriage teachings and shared openly about their own marriage. As others began to share their intimate struggles, God's grace and mercy were on full display. God's unconditional love and his unending forgiveness were cemented into our hearts as we shared a time of Mikvah with our spouses underneath a beautiful, powerful waterfall in the desert where David was fleeing from Saul. (Mikvah is a cleansing that the Jewish people do prior to entering the temple that reflect repentance with a grateful and joyous heart).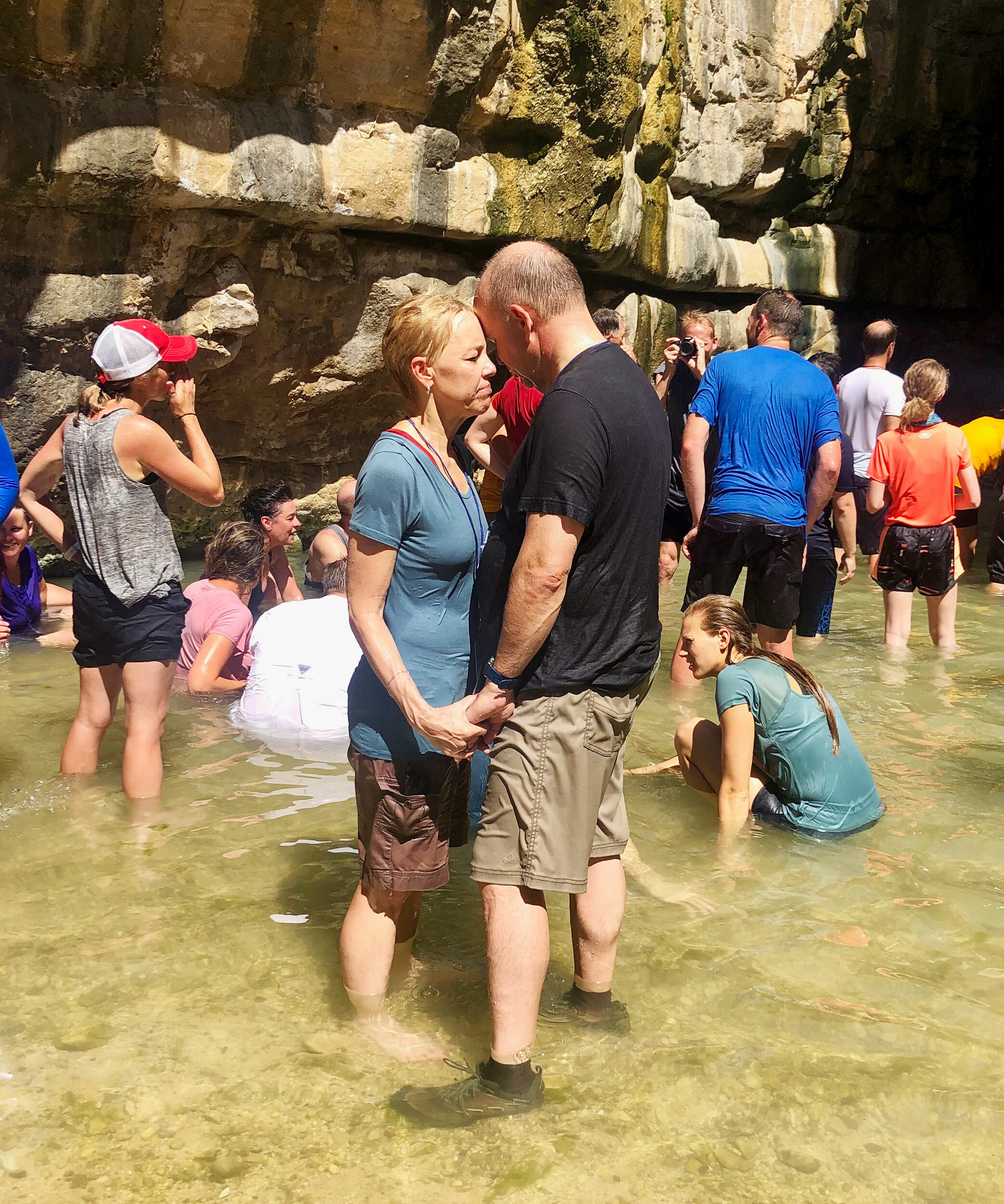 Our group spent time digging deeply into God's purpose for marriage. We hiked up a beautiful mountain top and each privately renewed our wedding vows. Rod shared how God married His people and spoke His wedding vows, the Ten Commandants. A great reminder of how we, the church, are the bride of Christ, and how deeply God cares about each of our marriages as we represent Him. As our days neared an end, we were challenged to write a marriage mission statement. How beautiful to sit beside your spouse, look deeply into each other's hearts, and put into words how we desire our marriage to reflect God's glory.
Before Scott and I left on this trip I had someone ask me, "Isn't it enough to be in the Holy Land learning about the God of the Bible? Why do you need to add a marriage component to something that is already so good?" And to be honest, I didn't know how to respond to that question. But ask me that question today and my answer is, "Oh no! The God of the universe ordained such a trip as this! God created marriage, loves marriage, and values marriage. And He mightily used this trip to strengthen our marriage and grow our love deeper and deeper with each other and with Him!"
— Peggy Powlus
---
From the very first group meeting, we knew and could feel that God wanted us on this trip. We were late comers to sign up for the trip. We had sent an email to Libby over spring break saying we were all in! On April 15th, my husband Dan was gone on a work trip, and was injured by a piece of equipment falling on his foot. He was able to travel home the next day and the morning of our first Israel meeting we met with the surgeon to see how bad it really was. The surgeon reassured us that this injury will not require surgery and with the right protocol and time Dan would be able to travel and do this trip. The timing of that doctor visit was not a coincidence, but a call to faith to lean on God during the time of healing. We knew God wanted us to do this trip together. Fast forward to the week before we left and we both had some anxious thoughts for different things. Dan was feeling apprehensive as the day got closer about the lack of training. I was also having my own nerves as the day got closer. A few days before we left, I started noticing a butterfly each day as we packed and prepared for our long journey and could feel God's presence cover us and protect us.
On this trip, we experienced so many impactful things. Completely relying on each other and our new community for strength and support to get through the difficult hikes. The second day, we hiked Masada and we knew at this point that this trip would be the most emotionally, physically, and spiritually challenging thing we have ever done. I remember seeing butterflies that day and knew and could feel God loving on our group and giving us strength.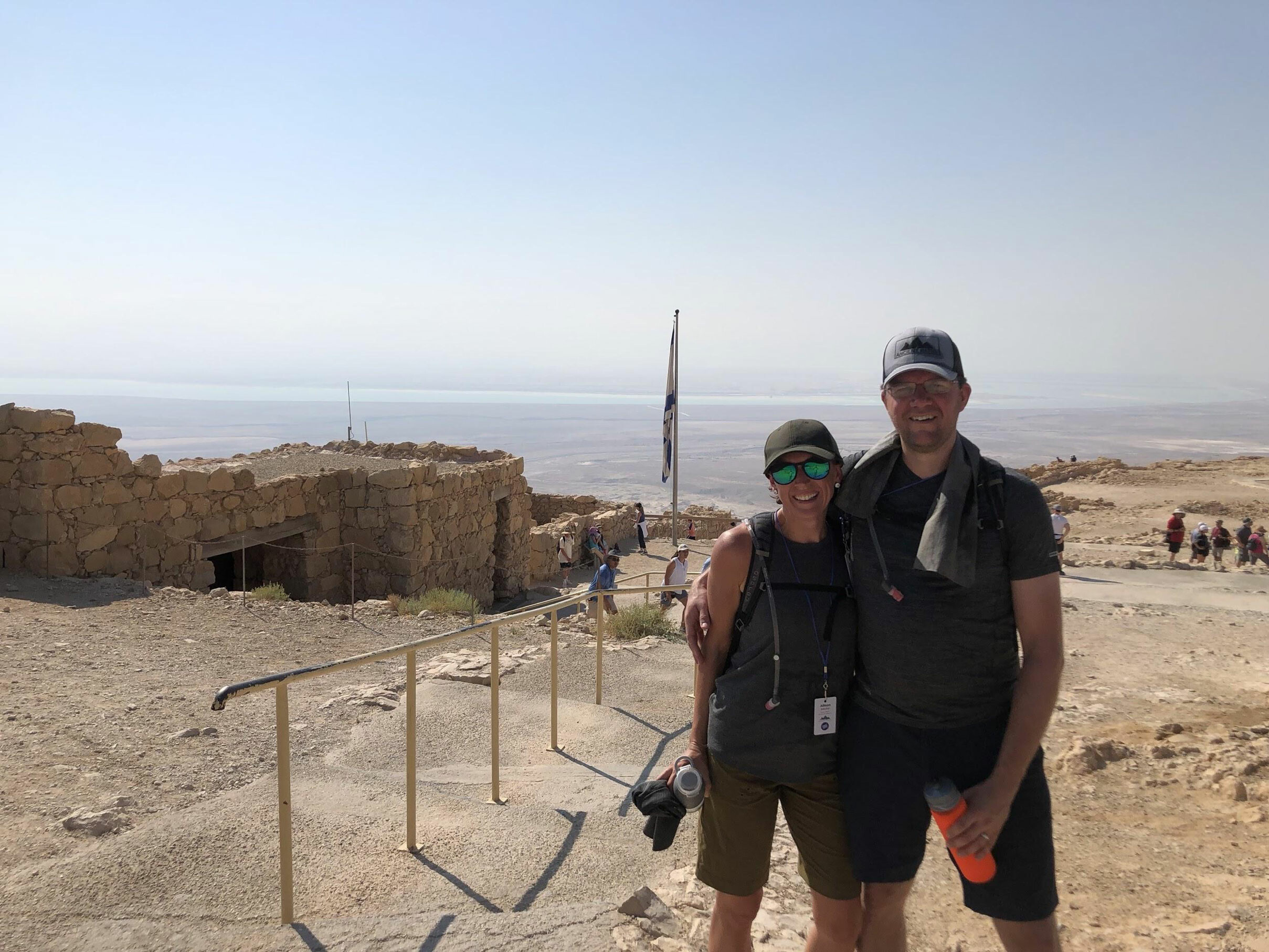 One of the most impactful days was hiking on day three in the Sinai Desert. This is where you have to completely rely on God for everything. In this desert you cannot survive without help from the outside. There is not enough food or water to sustain life. Walking through the desert helped us understand why God loves the desert. The desert requires us to relinquish control and to rely on Him.
A part of the day that we were so humbled by was during one of Rod's teachings on top of the mountain, Rod was delivering a message about God speaking to Elijah after he had defeated the prophets of Baal…" And he said, 'Go out and stand on the mount before the Lord'. And the Lord passed by..." but God wasn't in the strong wind, He was not in the earthquake, not in the fire, but in the sound of a whisper. As he said the last words of the whisper, he talked about how we had to be silent to hear what God was saying to us. On this day, we stood a little farther back in the group and had trouble hearing at times due to the wind. When Rod said whisper, the wind stopped blowing. You could have heard a pin drop. It was so powerful; we could all feel the Holy Spirit right there. It gave us chills to feel his presence every time retelling that story. As we were hiking back down the mountain, I happened to look down and find a rock shaped like Michigan. It was a sign that as we were missing home and our boys, they were right there with us. Thank you God for another sign that you are there and are with us always!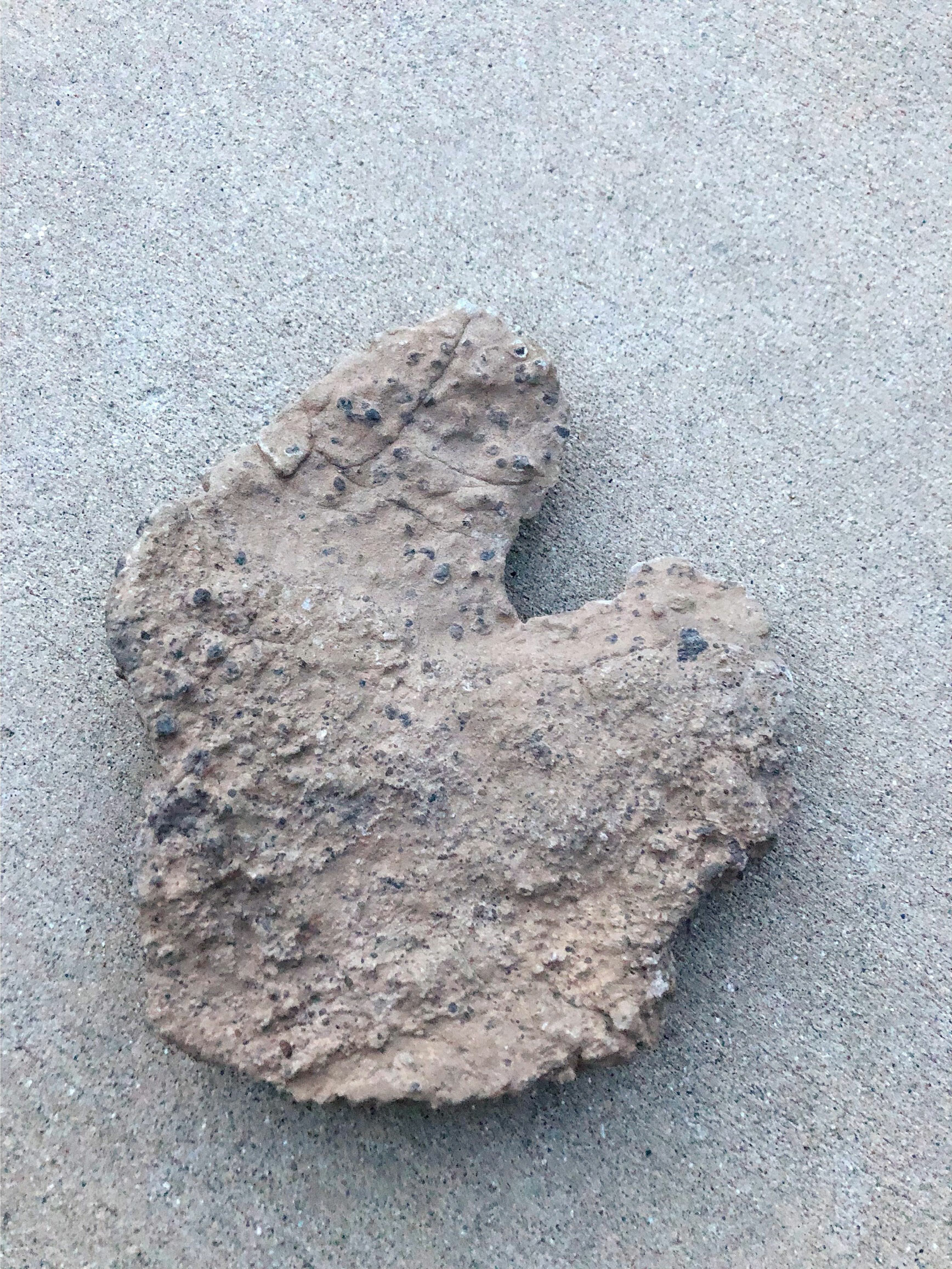 After this trip, there is no way we can read the Bible the same way again. Feeling and experiencing the places and locations talked about in the Bible will have such an impact on how we read the text. We got to experience Bet Av, swimming in the Dead Sea, the Mediterranean Sea, the Sea of Galilee. We saw where Jesus chose his disciples, and where he performed miracles. We traveled and experienced the desert, around the Sea of Galilee, and the city of Jerusalem. We walked on the Temple Mount and toured the Western Wall. We walked the path that Jesus did his last week on earth. We fell in love with the people that journeyed with us.
This trip was an amazing experience that we highly recommend to anyone who has the opportunity to go. Doing the hiking creates such a meaningful experience to bring the stories to life. We couldn't imagine experiencing Israel any other way. Thank you to Rod and Libby and Mark and Stephanie; your leadership was incredible and appreciated so much. Thank you for making the Bible come alive and for helping us see a different perspective on each other and the world around us. Thank you for challenging us and loving us.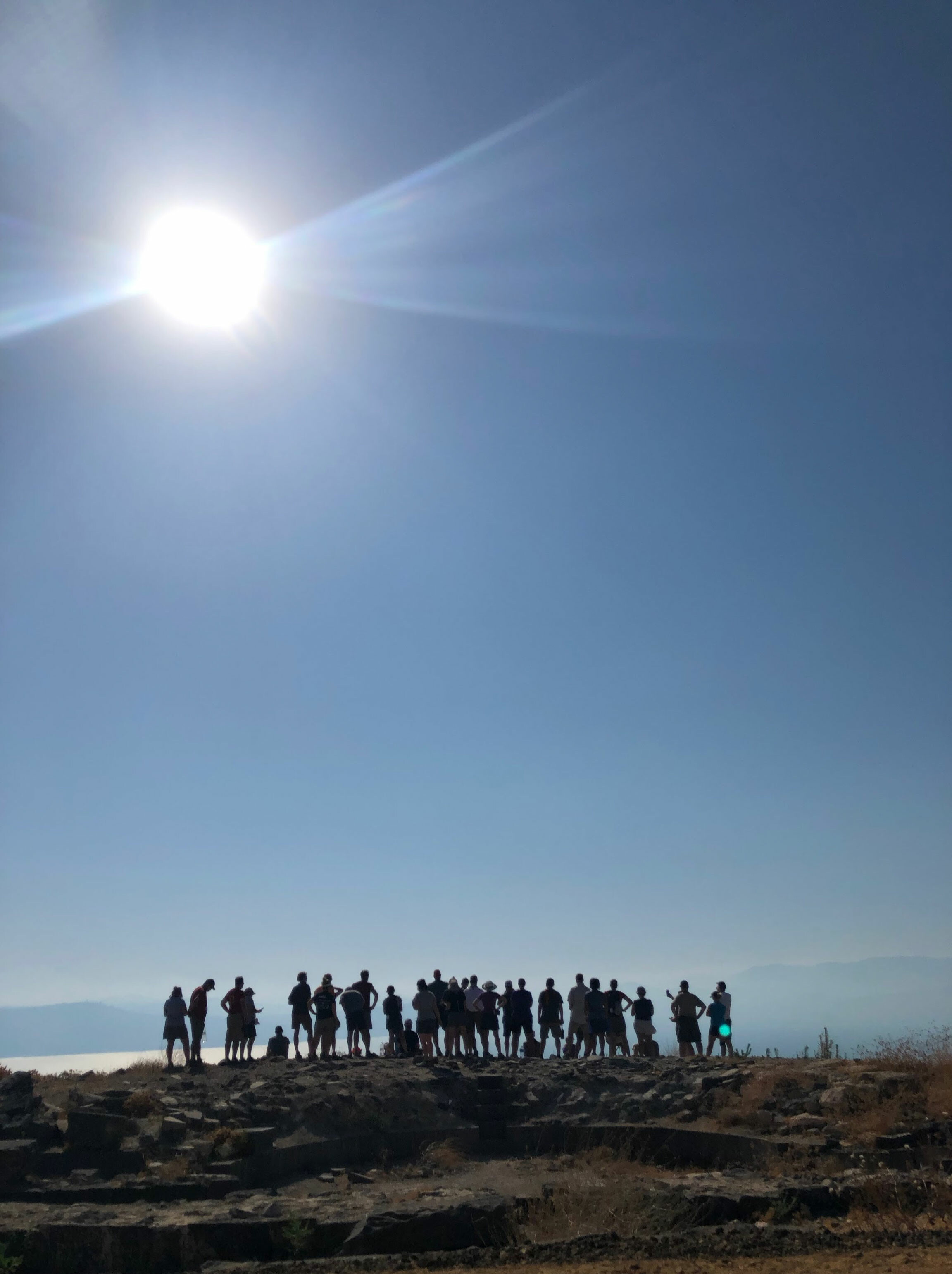 As we have transitioned back into real life back at home; we are reminded daily that God is with us. So grateful and humbled to have the opportunity to go on this trip. Thankful for the people on this trip that God has placed in our lives, and for the signs like butterflies to remind us of his constant goodness.
John 16:33: "I have said these things to you, that in me you may have peace. In the world you will have tribulation. But take heart; I have overcome the world."
— Allison Breuker