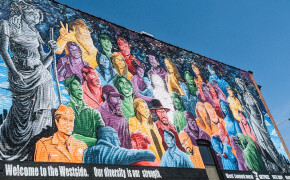 "Ms. Hicks, your skin so pretty. I wish I had light skin like that."
A five year old student that I worked with in my previous job told me this a few years ago. At the time, I brushed past the comment and moved onto our objectives for the day, not wanting to dive too deep into the uncomfortable issues that lay just under the surface of her innocent comment. I had the privilege of moving on and avoiding the topic without giving it much thought. She did not.
When I'm at my best, when I'm living into what God has created me uniquely for, I'd like to think I'm a pretty good bridge-builder. I naturally see most sides of a situation, and find myself being a mediator in many discussions and decisions. I can generally get along with people from all walks of life, easily finding connection points and things we have in common. Most of my job here at Crossroads is even centered around this act of finding middle ground and connecting people - I get to stand in the space between kids and families in the local public schools and members of Crossroads. It's no secret that the demographics of our church are very different from the demographics of the Westside neighborhood that Stocking Elementary rests in. I wrestle often with my place as a white, middle class Christ follower who spends most of her days building bridges to a neighborhood that is predominantly made up of people who have different backgrounds and skin colors than I do.
These past few weeks, I have felt frozen. Just like when my sweet young student told me she wished she had my white skin. In talking with other white followers of Christ, I get the sense that many of us have been completely clueless about what to do or say to love the people of color in our lives well. We've been wanting to speak out in support of the black community, but also not wanting to say the wrong thing and accidentally create more heartache or problems. We've been lost about how to pray. We're heartbroken, and losing sleep. We see bridges being broken and burned down, polarization happening to the utmost extremes. We deeply mourn the loss of George Floyd and so many other human beings who have been senselessly murdered because of the color of their skin. For so many of us, it was a wake up call. Although I claim to be such a good mediator, I've been confronted with the fact that I don't actually know all that much about the experiences of the people that I'm trying to build a bridge over to. I repent of my ignorance, and I want to humbly apologize to my community for the ways I've allowed injustice to occur right before my eyes.
But God. Whenever I see that phrase in scripture, I lift my head a bit, knowing there is hope. It comes up in Psalms 9:18, Romans 5:8, and many other places. A favorite of mine right now is Hebrews 3:4 - "For every house is built by someone, but God is the builder of everything." I am a bridge-builder, and so are you, but the power to do so comes from God. I believe wholeheartedly in a God of reconciliation. A God who desires unity. I believe in eternity, a Kingdom where I will sing and laugh and dance and eat together with people of every nation, skin color and language. I believe we have a part in bringing pieces of that Kingdom to earth here and now. We get to show glimpses of heaven to a broken world. We get to preach a Gospel that reconciles all people to Christ. But God is the source of that reconciliation, and we get to trust that He is the builder of everything.
If you are a white follower of Christ, I'm going to guess that at this point you're thinking, "Yep. Okay. I'm with you on that. But what action steps do we take? What do we actually DO?"
I want to first acknowledge that racism and discrimination takes many forms. I have written this focused mostly on the black community because of recent events, but know the following suggestions can and should apply to relations between people of all races and backgrounds. Also, I'm no expert in navigating race relations. Like most of you reading this, I'm mostly just fumbling around in the dark, asking God to light the path for my next step, and then trusting Him to be faithful tomorrow in lighting up the next step after that. But, to get us started, here are three things that Crossroads values, and that I personally am going to take steps to grow in myself:
Prayer and Repentance: Let's be heartbroken by sin and brought to our knees in prayer. Let's get really mad about injustice in every form. Let us not aim our hate towards other humans, but rather at satan. He has come to steal, kill and destroy, and I can guarantee that God is mad about that, too. We often forget that we are in the midst of a spiritual battle, and that now is the time to put on our armor and fight against the powers of darkness in prayer.
As we pray, let us not forget to examine ourselves. We all fall short of the glory of God, and should be heartbroken by our own ignorance and sin as well. But once we've repented and turned away, let's not dwell on past regrets. God has already forgiven it all through Jesus' blood and sacrifice.
Awareness: I am a firm believer that education changes our thoughts, and when thoughts change, so do actions. When the actions of whole groups of people change, systemic change can happen. Racism is certainly not an issue that will be changed overnight. Let's take steps towards increasing our awareness, and commit to being in it for the long haul. Some ideas include doing a book study with some friends, listening to podcasts and sermons about how the Gospel intersects with race relations, or watching documentaries. I'll list a few suggestions at the end of this blog post.
Listening: People's stories are powerful. When we get to know people as fellow human beings, it's a lot harder to hate them. It's almost impossible to turn our eyes away from injustice being committed against someone we consider a friend. The other benefit to be gleaned from listening to our friends who have different skin colors is that we will be more apt to take a posture of humility and will have a greater desire to follow their leadership. I am white, and will be the first to admit that I have no clue what the black community needs right now. I'm going to have to phone a friend on this one.
There is one caveat that I'd like to acknowledge as we start thinking about the next steps we should take individually and as a church. This should not be a quick and flashy one-time thing. It's not just a hashtag on social media. We want to humbly walk with people from a place of genuine and pure love, not just do things so we can put our "righteous acts" on display and feel better about ourselves. I will be the first to say I've been guilty of this in the past, and I want to get better about it going forward. Let's be committed to the long haul, doing the daily work of educating ourselves and building bridges without asking for acknowledgement or praise. Let's love our neighbors as ourselves, with our only motivation being that Jesus loved us first.
---

Resources I've found helpful in increasing my own awareness
GRTS Talking Points Conference, Spring 2018:
Click here to listen
Ideas for what white people can do for racial justice:
Click here to read
Right Now Media:
*They are currently highlighting studies and sermons about race. Email to request a login for this catalog of faith-based videos: www.rightnowmedia.org/library
Movies to Watch:
– Just Mercy
– 13th
Books to Read:
– Strength to Love by Martin Luther King Jr
– Just Mercy by Bryan Stevenson
Podcasts to Listen to:
– Love Thy Neighborhood (Season 1, Episode 1)
– The Bible Project (Season 1, Episode 61)