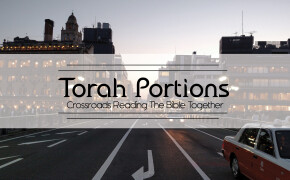 At Crossroads we love God's Word. We believe all words of scripture are inspired by God and are committed to knowing and living out the text individually and in community together. This year we are inviting everyone to journey together by reading weekly Torah portions. Not only will we read together, but we invite you to read a weekly Torah Portion blog written by men and women from our community.
Go [Bo]
We have all heard it.
We have all seen it.
The brave man or woman sharing about how God called them to GO and serve in a far away land. We lay our hands on them, and pray earnestly that God would protect and provide for their every need.
That is the exact thought that raced through my mind as I read Exodus 10.
Then the Lord said to Moses, "Go to Pharaoh…"
I'm not sure what you think of when you read this, but I picture Moses being surrounded by hundreds of fellow Israelites who believed in him and supported his calling to GO before Pharaoh. Brothers and friends earnestly praying to Yahweh for the provision and protection that he so needs. Just like so many Saturday nights and Sunday mornings at Crossroads, Moses in the middle of the prayer pit.
Its a nice thought isn't it?
But the reality of Moses' call looked very different.
As an outsider with only one or two close friends who really understood what he was doing, Moses brought a message that promised rescue and redemption, but delivered hardship and anguish.
Now obviously, God had plans for the Israelites that they couldn't understand at the time, and those plans depended on the obedience of a lowly, stuttering murderer.
And that is just crazy to me, that God would use Moses of all people, to deliver his chosen nation out of the grip of the world's most powerful man.
And in the very same thought, I realize that this is God's modus operandi. It's the way he does things.
I think of all the men and women throughout the Bible who were used by God to do extraordinary things and it is alarming how ordinary they are.
Take David for example (mainly because of how well known he is). Samuel takes a secret trip to visit Bethlehem in order to learn the identity of God's new king, and asks Jesse to gather all his sons to appear before the Lord. And no one thinks of David who is out tending the flocks.
None of David's brothers mention his name.
His mother doesn't go after her youngest boy.
His father seems to barely remember the eighth son exists.
Yet the Lord chose this boy saying - The Lord does not look at the things people look at. People look at the outward appearance, but the Lord looks at the heart.
Moses
Joshua
Gideon
David
Ruth
Rahab
Jeremiah
Isaiah
Peter
Matthew
These men and women - who changed the world for God's kingdom - all had one thing in common.
They shared a Yes in their spirit.
A Yes to the call, and the path of God, crazy as it may seem.
This causes me, in such a real way, to consider my life and whether or not there is a willingness to GO.
Is there a Yes in my spirit?
Is there a "Here am I, send me" (Isaiah 6:8) found anywhere inside my weak frame?
Because if there is one thing that God is speaking to me through the life of Moses it is this: God will use anyone that gives him their Yes through true and total trust and surrender.