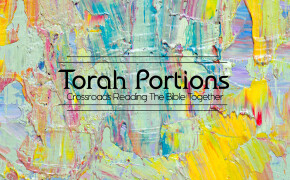 Shemot
Exodus 1-6:1 | Isaiah 27:6-28:13; 29:22-23 | Matthew 2:1-12
Out of the drama of Joseph's death, a leader and highly exalted person in the land of Egypt and also a Jew, we find ourselves right in the beginning of the book of Exodus, and smacked in the face with names. Shemot, the title of our portion for the week, means exactly what we are faced with here: new names, characters, and people that we have not met before. This is a new story, yet a story that will come to be known beyond the generations that had already forgotten, a story that will lay out a pattern of God's constant faithfulness and deliverance among changing names, characters, and people.
The Scripture is pretty clear on the reality that people are not immune to the ways that the curse of sin has played out in this world, showing us in many ways that tragedy, hardship, pain, suffering, and death are some of the most normal things to count on. Not only that, but we are also very much to blame for most of the wreckage we see not only in our own lives, but also in causing some of the grief that is around us. Exodus shows us this firsthand through the slavery and hardship of the Israelites, the injustice of their labor. This depravity lends us some helpful knowledge behind it, with simple words showing up in 1:8: did not know.
This people that were being oppressed were also people who feared God. Through a saving ark, or basket as it would be translated in your Bible, the Lord would once more bring salvation and deliverance to His people. Here's another new name: meet Moses. A miracle that crossed murderous waters, he was drawn out to become royalty. Yet, Moses' new status would not keep him from knowing his true identity, it would not spare him from a vengeful reaction to injustice, and it would not help him blot out the shame of his own sin. His flight to cover and hide from the punishment he deserved led him away to Midian, and into humility that God can speak to. In a beautiful twist of words, we are faced with a people who did not know and full of sin, shame, and suffering, and graciously met with a holy and perfect God who saw and knew (2:25).
In the humble, broken place of Moses as a shepherd, God makes holy ground, and makes a way for Him to be known. Here I am. In the face of God's holiness, his perfect, just, and right ways make us to hide our face (3:6). Moses is right. Who is he that he could; who are we that we could follow?
God responds the rest of the chapter by using a very specific pronoun twelve times: I.
It will never be us, or our strength, or our actions, but the I AM.
Let this be something to remember as we find ourselves in a new year, with a new rhythm to find ourselves back into, and many of us attempting to scrape up some sort of new resolution to better ourselves in the days to come. A humility that knows that reliance and God-with-us is the only way to move forward will be one that saves and makes better from one degree of glory to another.
Moses returns to Egypt, with clear signs that follow his obedience to God, yet the circumstances did not add up. In fact, all hopes seem to be dashed, deliverance far off, and the burden to bear much too heavy to carry. Where are you, God-who-delivers? Where are you, God-who-saves? Where are you, God-who-is-with-me? Come through on your promises.
As much as we may not voice it explicitly, a lot of us find ourselves looking at the circumstances around us and can not see any fruit of God's promises, of His deliverance. We resist pain, we resist the fall around us that we are also so guilty of. And yet, once more, we have a God who sees and knows, and who allows us to cry out.
Isaiah speaks in the haftarah during a different time, of deliverance, of the day when those lost in the land of Egypt will come and worship the Lord.
Matthew speaks in the gospel during a different time, of deliverance, of the day when those lost in slavery will be found, out of Egypt I called my son, of a time when salvation would come through the hands of God-with-us. Can you see the parallels? Can you see His story woven all throughout?
Circumstances can not be the sign of a present God, of a faithful God, of a delivering God. The gospel tells of a different way, a way that calls us to know and be known, a way that seems backwards and upside down in reliance, neediness, brokenness, and even death.
He will bring you out and name you, He will come and save, He will be with you.
Come, let us worship and bow down.
---